Dear Family and Friends of Central,
Even though February has come to a close, we wanted to take a moment to share some wonderful moments from Central's Celebration of Black History and Soul-Food Community Dinner. The night included performances and presentations from children in our After School program, Central Seniors, and TRANSIT ARTS musicians/artists. Winni Rizor, a member of Village Central's Advisory Council, organized and emceed the event to celebrate Black History Month.
After-school students Arreion, Tamira, Alana, Loyal, Baron, Se'Viyon, Kylik, Dominique, Jalil, and Dereon (led by Ms. Marquita) read short bios of important prominent black figures from past and present, such as Jackie Robinson, Martin Luther King, Jr., and Maya Angelou.
Youth performers also paid tribute through song and dance. The Gems (Ka'Miyra, Naima, Karmell, Audrielle, Kristopher, Zindzi, Tashayla, Brandon, and led by Ms. Bria) performed a dance and a song, titled "Woke Up This Morning With My Mind Stayed on Freedom". The song was originally written by Reverend Robert Wesby while in jail during the freedom rides. It then spread and became part of the civil rights movement, as did many others during this time.

Another group, The Tiny Stars, (Kerrey, Kaiden B, Kimberly, Caius, Willie, Navaeh, Macaiah, Kaiden H., led by Ms. Shelia) performed an African call and response dance mashup of 'Jambo Bwana' and 'Che Che Koolay'.
The Tiny Stars perform Che Che Kooley
Seniors from the community told their personal stories, in addition to that of the neighborhood, considering how things change, while others stay the same. Their insights and views remind us we all can contribute to improving our community.
The TRANSIT ARTS team provided an uplifting and inspiring mix of poetry and music.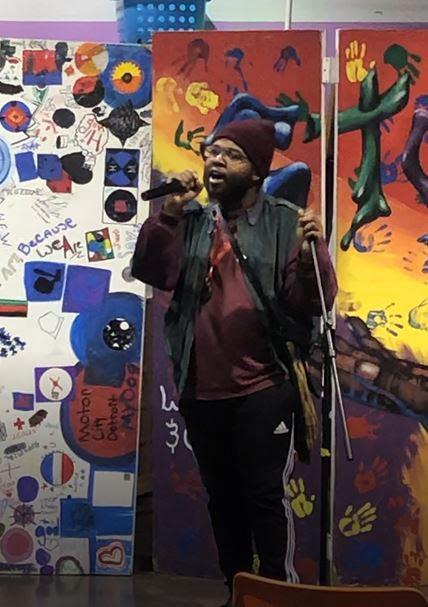 Central Staff members also provided moving orations. Roderick Aldridge, Senior Program Coordinator, performed a recitation of "I, Too" by Langston Hughes. Katerina Harris, Program Manager for TRANSIT ARTS, performed a reading of "Aint I a Woman" by Sojourner Truth.
The traditional Soul-food Style Dinner was prepared and served by some wonderful volunteers from Medical Mutual.
Columbus City Councilman Rob Dorans joined in the celebration. Central also received special recognition from Franklin County Treasurer Cheryl Brooks Sullivan for hosting this event, celebrating the "importance of diversity, equity, inclusion, and the African-American experience."

All who attended were inspired, and the sense of community was strong and uplifting.
Finally, even though Central holds this celebration in February, we recognize that black history has importance, and should be celebrated, all year round.
Until next time…
Tammy Forrest, Ph.D.
Executive Director